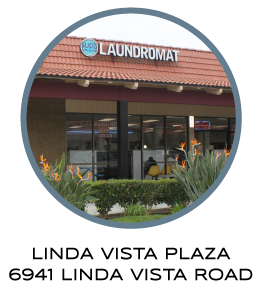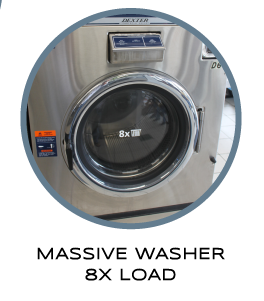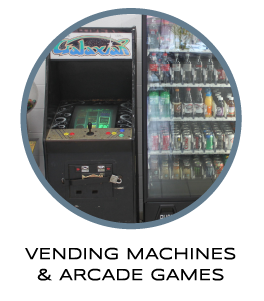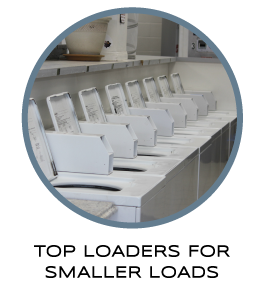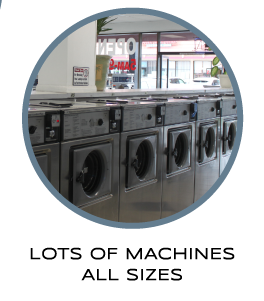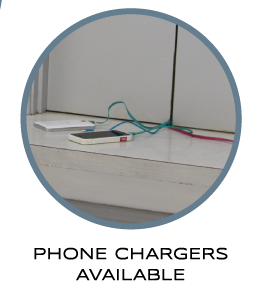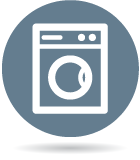 Newly remodeled!
We hope that you enjoy our newly remodeled store with its 42 brand new stainless steel dryers and 8 GIANT LOAD WASHERS perfect for blankets and comforters!
Conveniently located just 1.5 miles north of USD (University of San Diego) at 6941 Linda Vista Road, adjacent to Rite Aid, Mc Donald's and a host of other fabulous eating establishments, SUDZ is the ideal coin operated laundromat to get all of your laundry done fast!
SUDZ Coin Wash
6491 Linda Vista Road
San Diego, CA 92111.
(858) 277-5905
---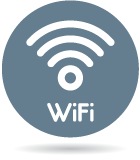 Free Wifi & Fun!
Doing your laundry shouldn't be a drag! This is why we provide:
· Free WIFI.
· Free Phone Charging Stations.
· 2 Video Arcade games with all the classics!
· Ample seating both inside and out!
· And lastly we have plenty of outlets for those wishing to charge their laptops while they wait.
So whether you need to study for you next exam at the University of San Diego, or you just want to watch Netflix, either way we've got what you need here at the newly remodeled SUDZ of Linda Vista.
---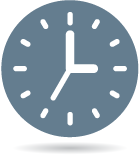 Save Time!
With over 50 washing machines and 42 brand new dryers, saving time and money has never been easier here at SUDZ Coin Wash.
We've listened to what our customers have had to say and know that with:
· 7 Massive, 6 load washers.
· 1 Mega Washer capable of doing 8 loads of laundry at a time.
· 20 Triple load machines.
· 22 Double load machines.
· 8 traditional top loading machines (for those who love the classics).
· And 16 brand new "Jumbo" dryers and 26 "traditional" sized dryers.
We have what you need!

Check tags for special instructions

Check your pockets before wash

Pretreat stains for best results.

Sort your clothes before wash

Lots of Machines
All Sizes

Choose cycle and extra rinse if desired

Hot Water
The hotter the water temperature, the cleaner the clothing will be. Use hot water to remove dust mites, germs and heavy soil. However, hot water tends to make some of the clothes shrink, wrinkle and fade.

Warm Water
Warm water is usually the best choice for permanent press and jeans. It allows good cleaning action without as much fading, wrinkling, and shrinking.

Cold Water
Cold water is usually used for delicate items. It's also has the best options for clothing that have bright colors that may run or fade in higher temperatures.

Individual
Whether it's a small or large load, we have you covered here at SUDZ laundry due to our large variety of new washing machines and dryers.

Family
We have the big machines to get your large loads done quickly. Save time and frustration with our large selection of machines.

Business
Our industrial strength machines are perfect for your commercial laundry needs. Please come in today to learn how we can help.

Traveler
As someone new to the area, you'll find that SUDZ is not only easy to find and easy to use, and a great convenient location.
"As a student living on campus at the University of San Diego, I find it easier just do all my laundry at once at SUDZ because I'm usually in and out in about an hour and I get to use their WIFI the whole time. I would recommend them to anyone living in the area or who really needs to get a lot of laundry done fast."
-Matt in San Diego
"Let's face it, we all have to do laundry. Since moving into a new condo without a washer and dryer I had to find a good place to wash my clothes and I didn't have to look far, Sudz is my new laundry home."
-Greg from Mira Mesa
"My home washer isn't big enough for my blankets and comforters, so I bring them to Sudz to wash them. I've never had a problem and highly recommend them!"
-Sandra from Downtown San Diego
Hours : 

5AM to 9PM
Last Wash at 8PM.
Contact Us
info@sudzcoinwash.com
(858) 277-5905
• 6941 Linda Vista Road • San Diego Ca 92111 •